In my previous post I told you how we (Rob, Johan and me) started home brewing our own beers, so we could present them at BBQ/beer tastings for friends. Well, things have accelerated and we now have a commercial beer brewery, called Brewery 22Four. In this blog I will take you on our journey and tell you our story, so let's start!
Starting home-brewing
Our home brewing adventure started with a simple brewing setup, which included one 30 liter kettle and a 30 liter stainless steel fermenter. The temperature of the fermenter was controlled by an aquarium heater, which hung inside the wort. We were able to produce decent beers with this setup, but the temperature control of the fermenter and kettle were a big issue (more about this in the next paragraphs). Beside the temperature problem, we were always joking that one batch of beer took too long: We had to wait 4 till 6 weeks before we could start a next brew. It didn't take long before we purchased a second fermenter and now we can brew a batch of beer every 2-3 weeks. The kettle and fermenters are shown in the picture below.
Improving/rebuilding the shed
We brewed on a shelf in the window frame in a shed: it worked, but it was far from ideal. We had to stand during brewing or we were sitting on crates. Also there was a lack of storage space for our brewing ingredients, equipement and tools.
We used our home-brew setup first to brew some beers for bbq/beer tasting, but now we only use it to develop new recipes or to enhance existing recipes. The shed were we brew needed a lot of improvements to be "Brewery 22Four"-ready: As we intensified our brewing-frequency, we wanted to minimize brewing-time and make the brew-process as efficient as possible. Luckily Rob (the owner of the shed) is creative and very handy: On a weekly basis the shed and the brewing setup were improved, making brewing much more comfortable and easy.
Rob build a workbench, which replaced the window-shelf. And he provided a hot water connection and a sink, which made the lautering process a lot easier. Under the workbench was storage space for the brewing ingredients, equipement and tools.
This was already a big improvement from the windows shelf were we first brewed beer: In the past we had to make boiling water inside the house and had to walk through the garden with pans of hot water, which was dangerous.
But, after a incident were we accidentally dropped tools inside cooled wort and had to re-heat it (which caused our brewnight to be extended for another 2 more hours): we decided that the shed had to be foodsafe and therefor must be completely rebuilt!
Rob (and his dad) fully rebuild the shed: including a nice concrete floor with a drain, a bar to sit at, more than enough storage place for all brewing equipement, tools and ingredients, a entertainment system (computer, television, audio), an air extractor and most importantly a watertight kitchen worktop with sink and running (hot) water and electricity for the kettles.
This didn't necessarily minimized the brewing time, but made it much more enjoyable: we have a lot of great brewing nights from now on! We improved the brewing process as well:
Introducing climate cabinets
Temperature has a really big influence on the taste of a beer: It really makes the difference between a good and a bad beer!
To get more control on the temperature of the fermenters, we bought refrigerators and modified the temperature control units, so we were able to both heat and cool them. We turned these refrigerators into climate cabinets, were we could precisely control the temperature of the fermenters.
The fronts of the climate cabinets were painted with chalk paint, which enable us to write stuff on the doors: Kids love them!
This works excellent and we still use them for every brew!!
Modifying the kettle
The kettle was an entry-level model and the temperature control unit left something to be desired. It just had a big dial knob, were you could set the temperature: it wasn't precise in any way as temperatures fluctuated 10 degrees.
Rob bought a PID meter and some other technical stuff and modified the kettle and now we could control the precise temperature during mashing.
Sparge lid
lautering is the process were you separate solids (residual grains) so you are left with liquid wort, which is turned into beer. I use the terms lautering, filtering and sparging interchangeably, they come down to the same process.
During lautering you extract as much sugars as possible due filtering: To be able to do this, the wort needs to be 78 degrees Celsius and the sparging-water temperature 80 degrees celsius. You can imagine the problem when lautering takes a long time, it becomes difficult to maintain these temperatures. Also the sparging water must be gently poured (sprinkeled) on top of the mash, leaving the grain/filter bed as intact as possible, creating a clear wort. We modified the lid (which we never used anyway). Heated water from the boiler can now be gently sprinkled on top of the mash, while leaving the lid on the kettle keeping the heat inside the kettle
This was a rather, but crucial, improvement. But lautering takes a very long time (up to 3 hours) and we wanted to improve the brew-time duration.
Purchasing a second Kettle
In the past, during lautering, we transferred the wort to one of our empty fermenters and had to pump it back into the kettle afterwards. During sparging the wort cooled down and we had to re-heat the wort completely after it has been pumped back, also we had to clean the fermenter quickly so it was ready for the fermentation phase.
A lot of additional tasks that were not needed.
We purchased a second kettle, just to improve the sparging- and boiling-phase.
We now could sparge and heat the wort at the same time, holding the ideal temperatures and reduce the brewday duration significantly: reducing a brew-day with around one hour!
These are just of the few adjustments that we made. The most important part is that we can now make beer of consistent quality!
These improvements were introduced during the course of time and this blog isn't written in synchronous sequence (until now).
A hobby that got out of hand
When we started, we brewed some batches of beer for the bbq/beer tasting. But until now our home-brewing adventure was still a secret for our friends: They didn't know that we brewed our own beer, as we wanted to surprise them at a next BBQ/beer tasting. So, we brewed 5 different beers and it was time for our next tasting and to show off our own homebrewed beers. But than, one of the world-changing disaster striked:
COVID-19
COVID had entered the building: The world went into lockdown and only 2 guests were allowed per day. That's far less than the 10-14 persons we had in mind. So the tasting was postponed and we were left with a lot of beer, which we couldn't do anything with .. besides drinking it ourselves.. which was a little bit too much.
So we unveiled our mystery of our home-brewing adventure to our friends and we gave them our beer, so they could do a tasting in the safety from home. One of the first beers we brewed was a Belgian Saison, which we called "Joehoee". People really enjoyed that beer and some requested us, if we could brew Joehoee for them. Sure! No problem. As naive as we were, we started brewing in good spirits. But the requests kept pouring in. It even went so far that at one point we were only brewing for others and we had to buy beer in the store for those brew-days for ourselves.
We did something wrong then!
As a side note Joehoee, as our first beer, had a really intense and nice flavor. But as we gained more control on the temperature, we didn't manage to brew Joehoee exactly same as our first brew. We followed the ideal temperature-specifications of the yeast as we now could control the correct temperature using our new climate-cabinets, but the flavor was not as intense as our very first batch. After multiple attempts we finally figured out what caused the intense flavor: We had to bump up the fermentation temperature (far) above the recommended limits of the yeast, to release this intense flavor. So, we now had a secret recipe which everyone liked and we knew that there was a demand for this beer, which we couldn't satisfy with our 30 liter brewing setup. Hmmm, one plus one equals two, right?
We discussed this and we (Rob, Johan and me) dared to take the next step.
The Next Phase – Brewing commercially
We made it official: We registered "Brewery 22Four" at the Chamber of Commerce on the 30th of Juli 2020.!
For those who ask, were does 22Four stand for? Well .. 22Four = 224, which is the house-number of the brewery: nothing more, nothing less. LOL.
Making the brewery official gave us the opportunity to sell beer commercially (more about this in one of the next paragraphs).
Brewing commercial beer from the shed isn't allowed! We only use our setup to build the recipes, which we can scale to a large installations. So, no more brewing for others with our setup!
As we have now registered ourselves officially: The first thing that we did, was building a website and setup a good accountancy. We, as real IT guys, integrated the heck out of it. It had to be perfect, ready for a large amount of orders! The website took more time than initially anticipated due our perfectionism, but we had the time available:
Joehoee is a real summer beer and launching this beer in the winter was a bad idea: we wanted to introduce our beer in the spring of 2021, which we did. This gave us time to create a beer label, further improve the recipe, improve our home-brew setup (as described in the previous paragraphs) and find a rental-brewery were we could brew on large scale and which fitted our needs.
On February 2021 we finally brewed Joehoee on a large scale: 12 hectoliter (=1200 liter/3600 bottles) to be precise. We founded a rental-brewery, which helped us to convert our home-brew recipe to large scale. The brewmaster gave us his trust and (under his supervision) let us brew on his installation: which is really cool!
Brewing on a large scale is not much different than at brewing on our home-brew setup, the only difference is size. The brewing process itself is the exactly the same. The fun part is that we now try to mimic all the little brewing options from the large scale installation to our home-brew setup, so when we scale a recipe the taste will be the same.
After a "long" brew-day we went home and we had to wait a few weeks. After a few weeks I received a message (with a picture) on my phone from the rental-brewery owner:
He was really pleased with the result! He told us that he had brewed a similar beer (with the same yeast), but wasn't able to find that particular taste that we had in our beer: Which was a huge compliment!
As we have signed a statement that he may not use our recipe, we now had liquid gold in our hands 🙂
A few weeks later we bottled the beer:
In March 2021 we finally presented our first beer to the market:
A little side note, the beername "Joehoee" was already in-use by another Dutch brewery: We had to come up with another name. We had weeks of discussions about a new name for the beer, until we had an "eureka" moment and shouted: "Woo-Hoo" .. we looked at each other and at that moment we all knew that this would become the name of our first commercially available beer.
We had already sold a lot of our first batch of beer in advance. ITQ (my employer) placed a big order, which really helped us during this startup phase! For which I am still very grateful!
Investements
Our goal was not to invest too heavily, we wanted a natural growth. We started selling our beer to local liquor stores, pubs and restaurant. Covid-19 was still playing a big role, as pubs and restaurants were still closed. But we still manage to sell our beer quite fast: within a few months we completely sold out our first batch of beer.
In the meanwhile we were still developing the recipe of our next beers.
We invested in Brewery 22Four glasses:
Especially the restaurants, pubs and bars were asking for glasses and now we could deliver a "full 22Four experience".
Running a company
Where we started as friends and a (out-of-control-)hobby, we now run a business together. This requires that, we as associates/partners, are now financially depended on each other and have to make decisions together. This put some pressure on our friendship, but executed correctly doesn't cause any problem.
Each of us has a specific role inside the company:
Rob is our technical guy, the brewmaster: he know's everything about the brew-process and the installation.
Johan is responsible for appearance (labels, flyers, etc) and is very knowledgable about beer and beer-recipes:
We can have hour long conversations together about beer recipes, which is fun and educational.
I'm responsible for the commercially side of the company: I handle finance/accountancy and maintain contacts with suppliers and customers. I'm also responsible for marketing and social media posts (and also do the cleaning on brew nights .. wait, whut? <- this is our running joke).
Communication, openness, honesty and having fun are our key ingredients!
Introducing our second beer
For our second beer we wanted (again) a summer-beer, we had our thoughts about a Weizen or an IPA. So .. why not combine those two and call it a White-IPA (which is a real beerstyle). This beer recipe was developed quite fast, as fermentation didn't take very long for this beer. We could, therefor, quickly brew a lot of test-batches.
But, before we actually could brew this second beer on a large scale, we almost ran out our first batch of "Joehoee". So we had to brew another batch of Joehoee first, before we could brew our second beer. In June we brewed our second batch of Joehoee and a few days later we brewed our second beer, the White IPA, which we call "Keep It Up!". This second beer was bottled within my Holiday.
Fun fact: During my holiday, when I was already near the rental brewery, I went up and down to bottle for a day.
The second beer was very well received and gave us more visibility/exposure locally!
Selling beer
You might think that beer will sell itself, but you couldn't be more wrong: Yes, the first batch of beer was quickly sold. But this is mainly due friends, family and colleagues which are somewhat obliged to buy a beer (not really, but you get the point). To sell the beer to unknown people is really hard!
The first thing that we did was contacting the local liquor stores, were we received a mix variety of feedback: from enthusiastic, to a "put down a box, we'll see". We also contacted some catering industries and some of them sold our beer for a "monthly special", they have running contracts with large brewing companies and have limited possibilities for local breweries: This is the sad reality. So we have to work hard for our place within this market.
Social media (facebook and instagram) help us gaining exposure and the reviews on Untappd are helpful when contacting new clients, as they can read (for themselves) how our beers are perceived by others. New customers will always quickly check Untappd before you can make an appointment with them.
We are now fixed on the menu at 2 restaurants, which I am very grateful for! Having multiple beers in our product range really helped to achieve this!
Our third beer
For our third beer we had something special in mind. A beer which was brewed using local ingredients. Therefor Rob thought of a Tripel with Thai influences, including spices and pepper. Initially my own thoughts about this idea were very sceptical. Pepper en beer .. I didn't like the idea, but we organized some blind taste tests: we used a non-pronounced tasting Tripel and extractions from locally bought peppers. Some were bad, but 2 were very good! The pepper really enhanced the flavor of the beer! With this knowledge we improved the recipe of our own Tripel.
The break-through
Before we brewed this beer on a large scale, I contacted the local pepper grower with the question if they wanted to collaborate with us on this beer. At first, they were as sceptical as me, but after tasting the beer, their opinion turn around 180 degrees. Yes, they wanted to work with us! We were allowed to put their name "Westlandpeppers" on our beer and promotions! This was a big achievement for us!
This was not something we wanted to pass by quietly: I contacted all regional news papers and local media, and received a positive response from them also! We made it to the radio, television and local newspapers:
For the introduction of this beer I also contacted one the our best selling liquor stores (D.E. Bierwinkel in Naaldwijk) and asked if it was possible to promote this beer at their premises, on which they agreed on. This promotion went very well and during that day we sold more beer than we ever had, increasing our brand awareness in an incredible way.
Our biggest surprise was just right before this promotion-day: We received an email from one of the biggest news papers in The Netherlands: "De Telegraaf", who wanted to write an article about the collaboration, our beer and especially our story! We were flabbergasted! We, a small starting beer-brewery, in a national newspaper. Wow .. just wow!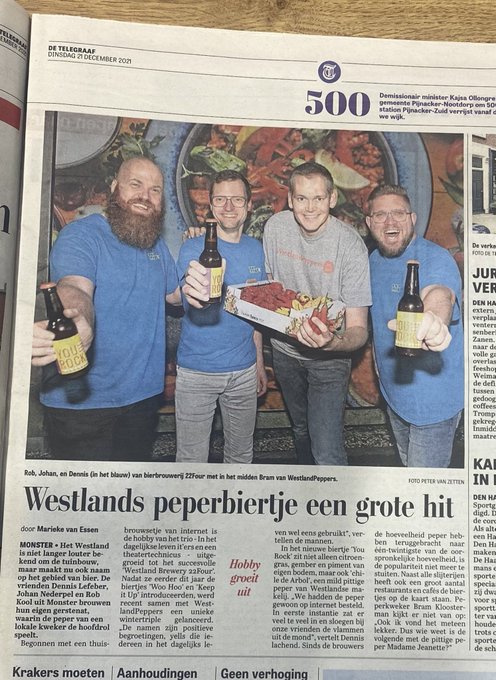 How things go from now on .. we have absolutely no idea as this article has been published today (21-12-2021)